Minami Kyushu Junior College's Mission, Educational Philosophy and Educational Goal
Our Mission
To foster individuals with a comprehensive education and high sophistication.
To foster individuals who value learning and cultivating knowledge in their field of expertise.
To foster helpful individuals who will contribute to their local communities.
Our Educational Philosophy
Our educational philosophy is to foster cultured people with dignity who are always considerate and grateful and contribute to their local communities.
Educational Goal
In accordance with the Fundamental Education Act and the School Education Act of Japan, the goal of our college is to help our students broaden their international perspective and acquire the qualities necessary to become useful members of society through gaining basic academic skills and dignity as well as personalized skills and knowledge related to their future profession.
Seven Features of MKJC : Our character-building curriculum which helps cultivate students
We offer a curriculum which focuses on each student's character development and development as a member of society. Students at Minami Kyushu Junior College can acquire basic business manners and communication skills through our unique courses including hospitality, business presentation, business manners and Japanese tea ceremony.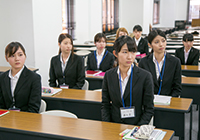 Small-size classes
At Minami Kyushu Junior College, students are divided into small-size classes and will have an academic advisor who supports them by individually advising and providing counseling on their academic progress, college life, future career, etc.
International training and study abroad programs to learn about the world
Students in the Study Abroad Course study abroad in the United States for the second half of their freshman year. As all credits earned during the study abroad will be counted toward the graduation requirement, students can graduate from our college in two years. Students at Minami Kyushu Junior College can also participate in a short-term international training program or transfer to a four-year American university after completion of their study at Minami Kyushu Junior College.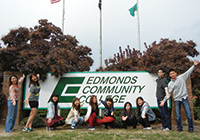 We offer 38 certificate courses that enhance students capability
At Minami Kyushu Junior College, to enhance their job placement probability, we offer 12 certificate courses which automatically certify students in a specific field upon completion of the course as well as other specialized classes which prepare them for an additional 26 certification tests.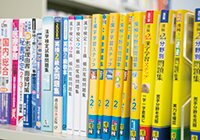 Community contribution to connect with society and local communities
At Minami Kyushu Junior College, students will learn volunteer ideology as well as the spirit of volunteer and practice what they learned by participating in volunteer work. Students can also reach out to the local community and society by participating in volunteer activities through our Volunteer Circle.
High job placement rate
At MKJC, we give full support for students' career paths by providing cordial guidance and counseling until the moment they receive an acceptance letter from their employer. Through continual one-on-one support, we help students get their ideal job. We also aim to foster educated and sophisticated individuals with advanced professional knowledge.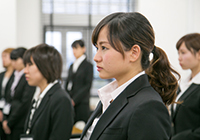 Special programs which help students get the job they want
Our special programs are designed for students who wish to pursue a specific career. These Programs include the Advanced Seminar for Employment in the Airline Industry for those who wish to be a flight attendant or ground staff and special lectures for those who wish to be a government employee. Students in these programs can intern at local companies to receive hands-on experience in their field of study.